The secrets of effective filtering with MirrorChat
Imagine yourself drowning under hundreds of messages on LinkedIn. It's hard to find your way around, isn't it? At MirrorProfiles, we've listened to your concerns and created a unique solution. With MirrorChat, you can not only centralize your messages from different LinkedIn accounts, but also sort them using advanced filters. You wonder how? Hang on, we'll explain everything.
MirrorChat's diversity of filters: A major asset
To read or not to read: Is every message received a priority? Maybe you're just looking for the ones you haven't read yet.
Specific tag: You've marked certain prospects with a specific tag and want to find them easily.
Last person to reply: Do you want to filter messages by sender? No problem! You can even target conversations where the other person has never replied.
The date, the number of messages, the precise content of a conversation or even the prospect's level of interest are all criteria you can use to refine your search.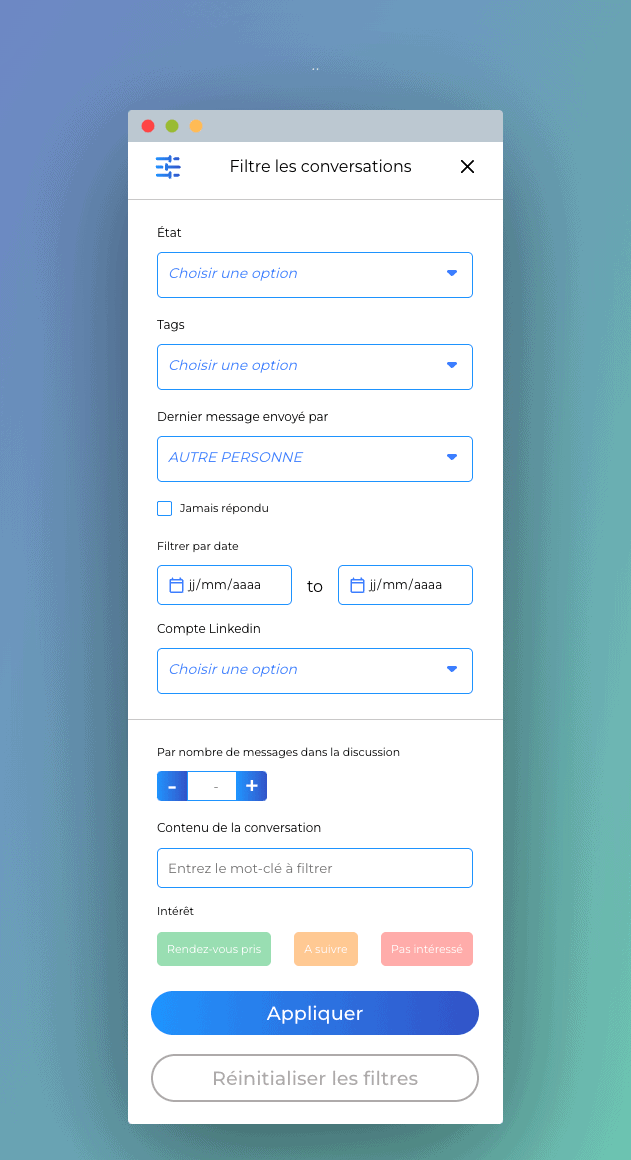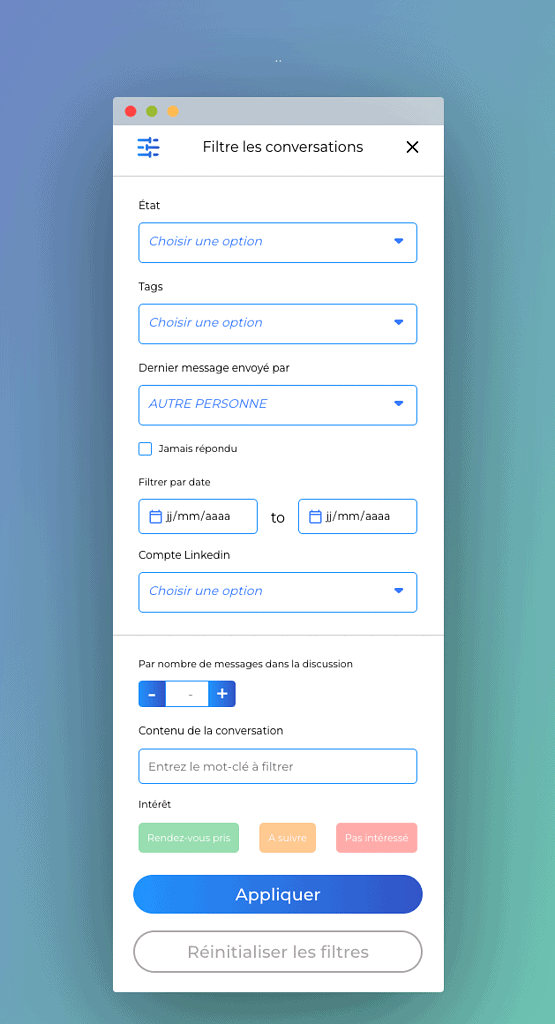 So how do you optimize the use of these filters?
Mastering the art of filtering in MirrorChat
First of all, choose the right filters for your search. But be careful! Too much precision can mean missing out on important conversations. Once you've defined your criteria, simply click on the **"Apply "** button. Have you changed your mind? Just click to reset and you're done.
You've understood the principle, but did you know that there are tricks to creating super-filters?
Superfilters: the pros' secret
1. Prospects to relaunch: Opt for the "last message sent by me" criterion and associate it with a specific tag.
2. The "for now": If your prospect has been using this phrase for more than a month, it may be time to follow up!
And the icing on the cake? MirrorChat's URL integrates your filters. Save it as a favorite and find it instantly the next time you log on.
Conclusion
With MirrorChat, no more hours spent searching for a message lost in the crowd. Thanks to our advanced filters and tips, you'll be in complete control of your LinkedIn messaging system. So, are you ready to optimize your time?
FAQs:
1. Can I combine several filters?
Absolutely! You can combine as many criteria as necessary to refine your search.
2. Do filters work for multiple LinkedIn accounts?
Yes, MirrorChat lets you filter messages from all your connected accounts.
3. Can I save my filters for future use?
Yes, thanks to the personalized URL that integrates your search criteria.
4. Is MirrorChat only dedicated to LinkedIn?
For the moment, yes. Our priority is to provide an optimal experience for LinkedIn messaging.