For all companies, email is an important acquisition channel. MirrorProfiles is a tool for renting Linkedin accounts, so why talk about emailing? 99% of our customers use Linkedin as the number 1 acquisition channel in their sales strategy. But that doesn't mean they've totally abandoned emailing – quite the contrary! The statistics for a Linkedin acquisition campaign is an average 40% acceptance rate. In other words, 60% of your initial database will never receive your Linkedin sequence. You should therefore contact these 60% by email. However, Linkedin doesn't provide us with the professional email addresses of our prospects, so we've decided to provide you with our analysis of the email enrichment tools on the market.
First and foremost, email enrichment tools need information to maximize the discovery rate of professional email addresses. Which is just as well, because Linkedin is able to provide us with these 4 essential pieces of information:
Prospect's first name
Prospect name
Prospect's company name
Company website
Thanks to simple scraping via Captain Data or Phantombuster, you can obtain the first 3 pieces of information from Linkedin quite easily. As such, most enrichment tools can work with just these three pieces of data. But you're not making it easy for them! Apart from the financial optimization aspect, if you don't give them the company's website, enrichment rates will be much lower, and you'll lose efficiency.
That's why you'll need to visit the company's Linkedin profile, where you can retrieve the website.
Linkedin company profile visits are limited to 200 per day for a Linkedin profile. If your daily needs are greater, don't hesitate to rent Linkedin MirrorProfiles to multiply your capacity for profile visits.
Once you have a database with these 4 key pieces of information, you can use a pro mail enrichment tool.
The 5 best tools for enriching professional e-mails
Enrow
Enrow is a platform specializing in the verification of email addresses, particularly those configured as "catch-all" or "accept-all". These types of email addresses accept all incoming emails, even if the specified address doesn't exist, which can cause problems for email campaigns and email deliverability.
The Enrow platform has developed the first algorithm capable of finding and verifying catch-all email addresses without the need for external databases or verification emails. The verification process is fast, taking just a few seconds for an individual search and a few minutes for a mass search.
Users can upload a CSV or XLS file containing the names and companies of their contacts, or use the search bar directly in the application to perform their checks.
All in all, Enrow is positioned as a fast, efficient solution for email address verification, helping to improve email deliverability and reduce the bounce rate of email campaigns.
For our part, Enrow is our favorite for 2 reasons:
Its enrichment rate is high
The cost per success is unbeatable. You use up 1 Enrow credit only if it finds the email AND is validated. This eliminates the need for third-party tools such as Neverbounce or Emailable.
Dropcontact
Dropcontact is a data enrichment solution distinguished by its commitment to compliance with the General Data Protection Regulation (GDPR).
Unlike other tools on the market that use personal databases, Dropcontact relies on its own proprietary algorithms and test servers to search, test and verify all data. This approach ensures that all information processed by Dropcontact is obtained ethically and in compliance with personal data protection standards.
The company makes a point of ensuring that the people whose data is used have given their consent to the use of their information by third parties, a major concern in the current context of heightened awareness of privacy and data security. This is one of the reasons why many SMEs and large companies prefer this tool to others.
Dropcontact has features that are often considered differentiating in the field of data enrichment:
Email verification and validation: Dropcontact doesn't just find email addresses, it also checks them in real time to make sure they're valid. This prevents delivery errors and improves the deliverability of email campaigns.
Duplicate detection: The tool is able to identify and merge duplicates in a database, guaranteeing a clean, up-to-date contact list.
Data normalization: Dropcontact transforms and normalizes data to ensure consistency. For example, it can correct company names, job titles and telephone number formats.
Company Change Alert: This is a particularly interesting feature, as it keeps you informed of your contacts' professional movements. If a contact changes company, Dropcontact can send an alert, which is crucial for maintaining an ongoing business relationship.
Social Data Enrichment: In addition to email enrichment, Dropcontact can also provide additional information such as social profiles associated with business contacts.
These features set Dropcontact apart, offering not only an email enrichment service, but also a complete CRM data quality management and maintenance tool.
It's a more than complete tool, and while it doesn't win the competition when it comes to pro email enrichment, it brings other features that make it a major player.


Snov
Snov is a prospecting platform offering a suite of tools for marketing and sales professionals. It is designed to facilitate contact research, email campaign automation and lead management. Here are two of Snov's major features:
Contact Search and Data Enrichment: Snov enables you to find business email addresses from domain names, search for profiles on social networks and enrich databases with relevant prospect information.
Browser extension: Snov offers a web browser extension that makes it easy to collect data directly from websites or professional platforms such as LinkedIn.
The platform is also renowned for its award-winning customer service, which offers fast, efficient support to help users get the most out of their tools. This positions Snov as a complete solution for professionals seeking to optimize their prospecting and accelerate their sales cycle.
One of Snov's particularities is that it is one of the best in European enrichment outside France, as well as enrichment on Asian prospects.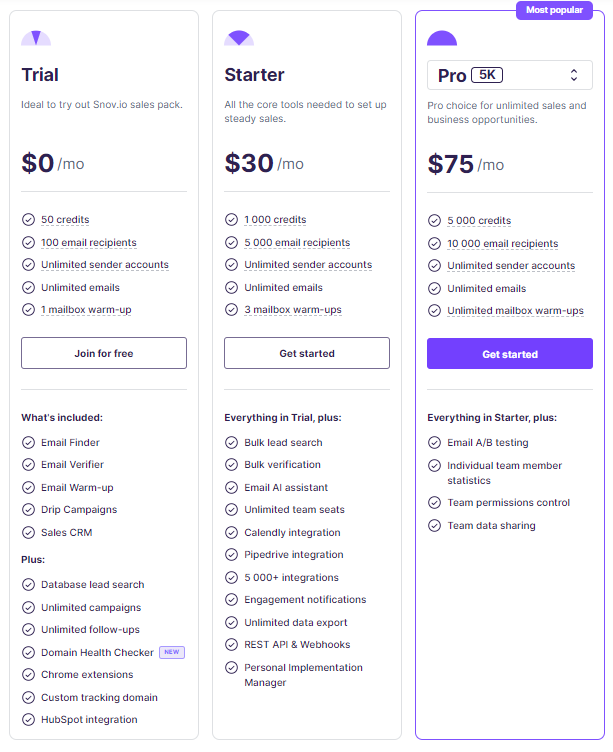 Getemail
GetEmail is an online service that finds professional email addresses in seconds using Big Data and machine learning algorithms. The process relies on combining the first name, last name and company domain name of the person you're looking for to generate a professional e-mail address. GetEmail performs this task quickly, which saves a considerable amount of time compared to manually searching for e-mail addresses.
Here are a few key points about GetEmail :
How it works: The service scans numerous websites to determine the general e-mail format of millions of companies, then recreates the desired business e-mail address.
Saves time: Finding an e-mail address manually can take around 5 minutes, whereas GetEmail reduces this time to just a few seconds.
Example: If a company's general e-mail format is nom_pré[email protected], then John Doer's e-mail to this company would be

[email protected]

.
The GetEmail team is led by co-founders Gabriel Cian and Nicolas Bahout. User testimonials underline the effectiveness of the service in simplifying prospecting and e-mail retrieval.
Getemail has the most powerful technology available, no matter where your prospect is on the planet, but it's very expensive. For our part, we only use it when databases contain few prospects and other enrichment tools have failed to find them.

Icypeas
Icepeas is a technology solution for sales professionals that boasts the highest discovery rate in the sales technology industry, as well as the lowest bounce rate.
Icepeas uses variables such as first name, last name and company name to discover professional e-mail addresses.
A pretty actor to watch closely! For the moment, Enrow is a more mature solution, but its creators are smart and fast. For our part, we're keeping a close eye on Icepeas, and will keep you informed if it dethrones the other tools.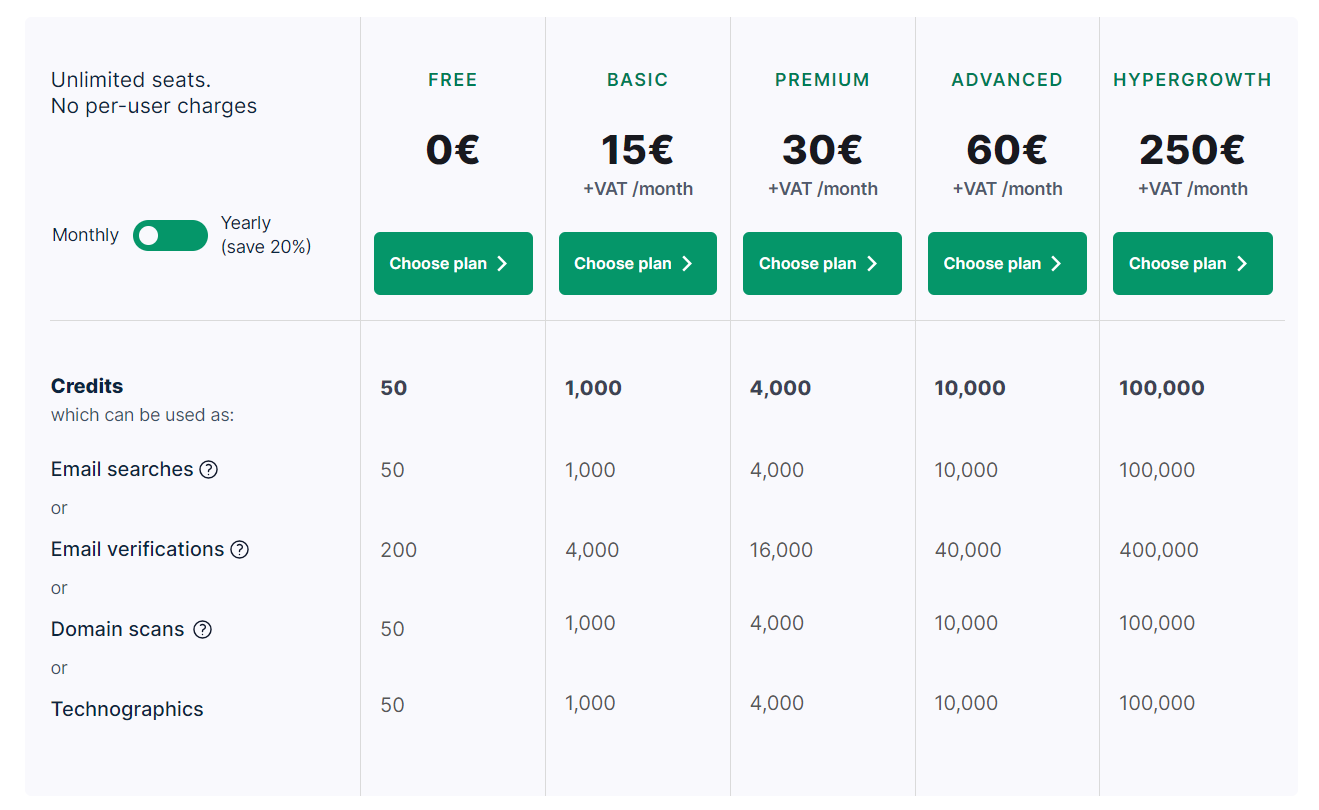 There are a huge number of players in the business e-mail enrichment market. That's why we've put together this TOP 5 list of enrichment tools.
Enrow is particularly suited to emailing. We recommend it to all our customers who want to upgrade their databases scraped and contacted via Linkedin MirrorProfiles.
Nevertheless, Dropcontact is a tool that allows you to obtain more information than just your prospects' professional e-mail address. What's more, its native synchronization with the majority of CRMs on the market makes it a key player in data enrichment.
In collaboration with Stepward, we have developed a technology that combines Captain Data, Enrow, Dropcontact, Datagma, Getemail and Snov to deliver the highest enrichment rate on the market. Yes, it's a lot, but you can't put a price on quality 😉 In other words, you can provide us with your Linkedin search link, Sales Navigator Linkedin or Recruiter and we'll take care of the rest! If you'd like to find out more, don't hesitate to make an appointment with Frédéric.
Once you've enriched your databases with professional email addresses, it's up to you! You can either contact them by hand, or use an email automation tool.
Louez un compte Linkedin avatar dès aujourd'hui