Many seasoned professionals use Sales Navigator to reinforce their prospecting strategies on LinkedIn. Among the challenges they face, manually creating a list of targeted companies can quickly become tedious and time-consuming. Fortunately, Sales Navigator offers an effective solution to this laborious task. By importing your company database directly into the tool, you save precious time while ensuring a targeted, strategic approach to your prospecting activities.
In this article, we'll show you how to simplify this import process, allowing you to concentrate on what's really important: engaging with your potential prospects. Whether you're looking to expand your customer portfolio, generate qualified leads or establish strategic partnerships, find out how to leverage Sales Navigator's import function to accelerate your business growth.
Have a Sales Navigator Advance account
To import a company list into Sales Navigator, you need a Sales Navigator Advanced subscription. This feature, which is particularly useful for data scraping, is not available in the least expensive package. Here are the different packages.
LinkedIn Sales Navigator offers three distinct packages:
Sales Navigator Professional (Core): $99.99 per month
Sales Navigator Team (Advanced): $149.99 per month
Sales Navigator Enterprise (Plus): from $1600 per year
The Professional package is LinkedIn's most economical option, perfect for those starting out in marketing or sales.
For this price, you get all the essential features of Sales Navigator :
Advanced filters for prospecting and account research
Notifications on prospect and account activity
Ability to build a customized list of prospects and accounts
The Sales Navigator Team (Advanced) package is slightly more expensive than the Professional plan due to its additional benefits. For this price, you benefit from :
Smartlinks for sharing content and tracking prospect interaction
Import company lists. You'll see that it's this feature that will make you choose this version over the first. On the first, you have to enter 25 by 25 (i.e. by hand) in a company list.
Teamlinks to access your team's 2nd and 3rd level relationships
Sales Navigator Enterprise has no fixed price. A web page will invite you to schedule a demo. However, we know that rates start at around $1,600 per user annually. The final cost will depend on your requirements, and an account manager will be happy to discuss this with you.
With this package, you gain access to three additional benefits:
Teamlink Extend: access to the 2nd and 3rd level relationships of all your colleagues
Live contact updates: be informed when a prospect in your CRM changes function
Advanced CRM integration: integrate all LinkedIn information into your CRM.
Here's what you can and can't do with the different packages:
If you'd like more information on how to choose your subscription, you'll find it all in this article.
Now that you have a team account and are ready to import, the first step is to prepare your list of companies.
Identifying target companies is a crucial step in any prospecting strategy. It allows you to focus your efforts on the companies that best match your offer and your objectives.
1. How do you define your selection criteria?
Before starting your search, it's essential to clearly define your selection criteria. Ask yourself questions like: What size company are you targeting? In which business sectors? What is your preferred geographical location? These criteria will help you refine your search and focus on the companies most relevant to your business.
Once you've identified your target companies, the next step is to organize and format your list in a structured way.
1. Essential fields to include for each company :
It's crucial to have a well-organized list to facilitate the prospecting process. Here are the essential fields to include:
Company name: This is the first identifier of your target. Make sure the name is spelled correctly to avoid confusion.
Linkedin URL: The company's LinkedIn URL is a direct link to its profile on the platform. This facilitates access to detailed information and networking with the company's decision-makers.
It's essential to note that, while the company name may suffice for some searches, the inclusion of the LinkedIn URL is crucial to ensure accuracy. For example, when using tools like Sales Navigator to extract data, errors can occur if several companies have the same name. Adding the LinkedIn URL eliminates this risk and ensures that you target the exact company you had in mind. To scrape these lists in Sales Navigator, I recommend Captain Data.
To refine your account list, you can add data to your company list: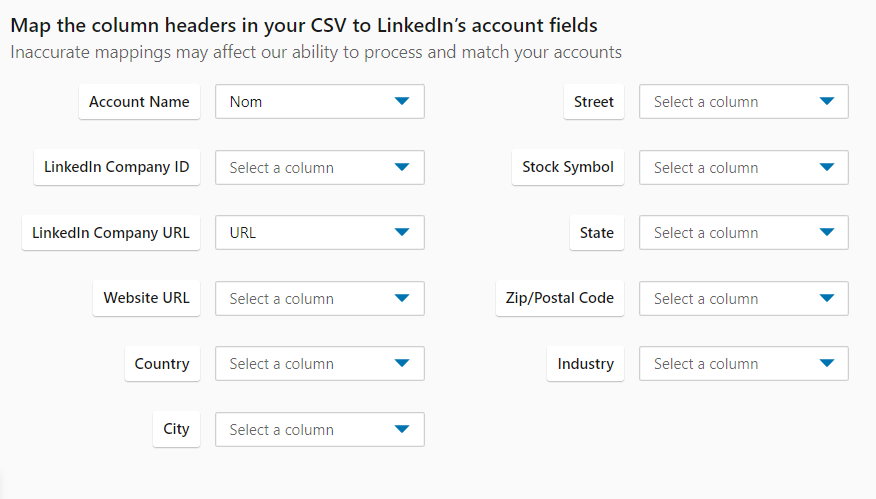 With a well-prepared list of companies in hand, you're now ready for the final step: importing them into Sales Navigator.
---
Import company list csv into Sales Navigator
How to access to the import function. You'll see, it's very simple!
IV) Scraper risk with Sales Navigator
LinkedIn imposes strict rules on use, including a ban on data scraping. If you are caught collecting data in an unauthorized manner, your account may be temporarily suspended or permanently banned. Here, it's not the tools that can cause this, but the amount of volume scrapped. Don't forget to read our article on Linkedin quotas before you start.
That's where MirrorProfiles comes in. This is a specialized service offering avatar account rental on LinkedIn. These accounts allow you to step up your prospecting activities without compromising the security of your main account.
One of the key benefits of this solution is the protection of your personal account. Renting a Mirror account does not mean that you can exceed the quotas mentioned above. But this allows you to multiply the quotas by the number of Linkedin profiles. If you meet these quotas but your Mirror or Avatar account is banned, MirrorProfiles will replace it within 24 hours, guaranteeing the continuity of your actions. You can set up Sales Navigator on your account so you can scrape safely!
What's more, using an avatar account allows you to considerably increase your reach on the platform, doubling or even multiplying your chances of creating relevant connections. You can also adopt a "verticalization" approach by creating specialized profiles to target various sectors or niches. This refined strategy enhances the effectiveness of your prospecting. The most comprehensive Linkedin strategy for 2023 and 2024 will be the use of MirrorProfiles accounts.
In short, Sales Navigator Advanced is an essential asset for improving your prospecting on LinkedIn. Here are the key points to remember:
Make sure you have a Sales Navigator Advanced account to benefit from all its powerful features.
Take the time to carefully select your targets and structure your list of companies for the most effective results.
Use Sales Navigator's easy list import to start targeted prospecting.
However, don't forget to respect LinkedIn's strict rules on data scraping. To avoid possible penalties, consider using MirrorProfiles. This solution lets you intensify your prospecting on LinkedIn while preserving the security of your main account. Rent a MirrorProfiles account with confidence for more effective and secure LinkedIn prospecting.
Rent a Linkedin avatar account today