Posting on Linkedin is a great way to raise your profile and show potential prospects your expertise. One of the many advantages of Linkedin is that it enables companies to work on both their outbound and inbound marketing strategies.
When we publish on Linkedin, we use inbound marketing to increase the number of inbound leads, either directly on Linkedin or via bounces on our website. This content strategy also increases your social selling and visibility. If you gain visibility, so does your company. Creating content takes time, so it's legitimate to want to maximize the impact of your posts by publishing at the right time.
What is social selling and Linkedin posts?
Social Selling
Social Selling refers to the use of social networks and social media platforms by sales professionals to interact directly with their prospects. Sellers communicate with their social networks to share content, answer questions, and generally be helpful rather than use direct sales tactics. The aim is to develop and maintain relationships with potential customers, helping them progress through the buying journey until they are ready to purchase.
This will stimulate business development. Social Selling revolves around leveraging social media to connect more intimately with prospects and customers. Also known as social media selling, this is an online sales technique that uses social networks to establish and maintain a relationship with the customer.
Social Selling offers a global perspective on the issues and needs of customers and prospects, and enables authentic dialogues to be initiated, building on the trust established through Thought Leadership. It also facilitates the creation of relationships with new prospects and continues the conversation with existing customers, either to explore additional or cross-selling opportunities, or to encourage them to become ambassadors for your solutions within their own social networks.
An effective Social Selling salesperson is one who knows how to use social networks to make contact with relevant individuals and market his or her products or services.
For our purposes, we're going to focus on content creation on Linkedin, which is part of "social selling". B2B is enough. In B2C, you'll also need to think about other social networks such as Facebook, X, Tiktok, Instagram and so on.
To measure your presence on Linkedin, the SSI or Social Selling Index has been set up. Linkedin gives you a score out of 100. The higher it is, the more people your posts will reach. Linkedin sees you as a credible expert, and will show your content to people with 2nd, 3rd or 4th relationships.
A LinkedIn account is considered influential when its Social Selling Index (SSI) exceeds 75. SSI is a key indicator on LinkedIn, measuring your ability to generate opportunities on the platform. A high SSI indicates a strong influence on the network, and it also allows you to compare yourself with other professionals in your sector and with the members of your network. To discover your SSI, simply visit this Linkedin site.
SSI is calculated according to four main criteria:
developing your professional image and publications
identifying relevant contacts
information sharing
creating and maintaining quality relationships
These criteria are essential to maximize your effectiveness on LinkedIn.
Why is a high level of SSI important?
LinkedIn is an ideal platform for creating and nurturing professional relationships, which can open the door to a wide range of opportunities, from sales and recruitment to career advancement. Although initially designed for sales professionals, SSI is in fact a useful tool for everyone. It allows you to assess your credibility and the impact of your communication on the platform.
A high SSI is generally the result of a strong personal presence and quality interactions. The higher your score, the more likely you are to generate new opportunities.
A presence on LinkedIn is crucial to establishing your professional credibility, expanding your network, accessing new opportunities and reinforcing your personal or corporate brand. It encompasses several elements, including a complete profile, regular and engaging activity, a diverse network and positive interactions with others on the platform.
Improve your LinkedIn profile
To maximize your potential on LinkedIn, it's essential to have an optimized profile. This includes a professional profile photo, a catchy headline, a detailed summary, a complete list of your skills and experience, recommendations, etc.
Mirrorprofiles offers several tutorials created in collaboration with LinkedIn expert Ruben Taieb. These guides cover different aspects of optimizing your profile and will take you step-by-step through the different sections of your profile, giving you invaluable advice on how to optimize them.
For other ways to improve your SSI, take a look at this article.
Linkedin posts are an integral part of your Linkedin SSI, and should be the cornerstone of your content strategy. Indeed, articles that can be written directly within Linkedin are not recognized for their true value. They're great for building on Linkedin's strong domain name as part of a personal SEO strategy, but they're less visible than Linkedin posts. Visibility is the number of impressions, in other words how many people have seen your publication.
Here are a few tips for composing a LinkedIn publication that will gain in visibility.
Best Practices for Writing a LinkedIn Post
LinkedIn Post format:
Length: Between 25 and 3000 characters, with a recommendation to stay around 700 characters for optimal readability.
Visibility: The first 210 characters are crucial to grabbing attention before the "see more".
Media: Images (1200×627 pixels, PNG or JPG) and videos (max 200 MB) can be integrated.
Types of Posts on LinkedIn :
Traditional Post: Text, image and link, with the option of tagging pages or people.
Opinion Solicitation: Engage your community by asking for their opinion.
Carousel: lets you scroll through several images or videos.
Video: Can be used to present a visual subject, although less engaging than images.
Steps to writing a Post :
Step 1: Hook
Use relevant keywords.
Be original and avoid abbreviations.
Tease content to encourage reading.
Step 2: Post structure
Keep it to around 500 words to avoid boring your audience.
Aerate your text with short paragraphs and line breaks.
Step 3: Using tags
Integrate relevant hashtags to increase the visibility of your post.
Step 4: Emoticons
Use emoticons judiciously to attract attention without detracting from the quality of the post.
Step 5: Copywriting
Keep your sentences short and clear.
Be direct and clear, and adapt your tone to your audience.
Step 6: Resource optimization
Include relevant images, links and videos to enrich your post and make it visually appealing.
Step 7: Community interaction
Solicit your community with questions, contests or debates in the comments.
Step 8: Post animation
Respond to comments and interact with your community to maintain engagement.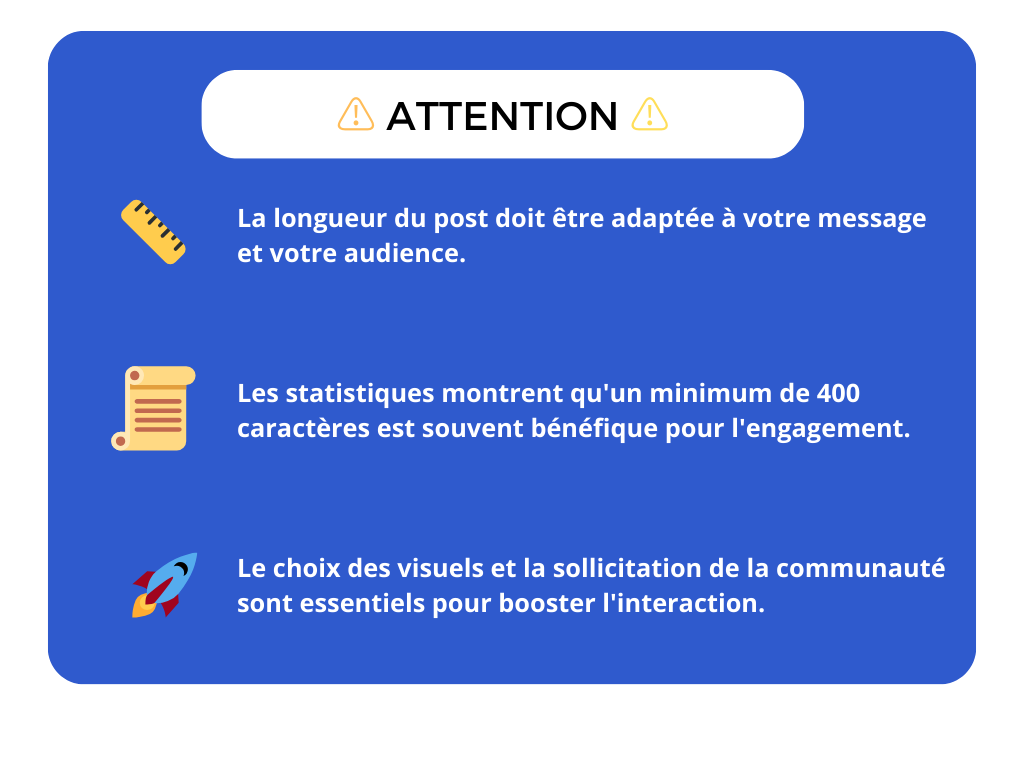 Now armed with the tips for crafting a powerful LinkedIn post, it's time to apply these recommendations and evaluate the feedback to fine-tune your approach to content on this platform.
While a LinkedIn post can be rich in information and value, it may not produce the anticipated impact, and that's where timing comes in. If you're time-constrained when it comes to content production, and can only create 1 or 2 pieces of content per week, selecting the right day and time to publish becomes crucial.
When is the best time to publish on LinkedIn?
The moment of publication on LinkedIn is of paramount importance, rivaling the content itself in terms of priority. Although this timing may fluctuate depending on your sector or your audience, three rules remain unalterable:
Targeting Transport Moments: Professionals navigate LinkedIn in the same way as they do other social networks, particularly for their business intelligence. Publish when they're most likely to be on their mobile, i.e. in transit.
Prioritize Less Busy Days of the Week: If your audience is B2B, avoid days when they're probably too busy to consult LinkedIn: Mondays and Fridays are generally not ideal.
Adapting to your target: If you're targeting bank advisors, Saturday mornings can be optimal. For craftsmen, consider early mornings between 7am and 8am or late evenings after 7pm.
Consistent timing is also crucial. Start posting on LinkedIn only when you have at least 4/5 posts to spare, to avoid any surprises. If possible, draw up an editorial calendar over several months, although many professionals don't have the time or expertise to do this.
As an example, we publish 1 LinkedIn post per week, every Tuesday at 9:25 am. Avoid posting at "round" times, as most posts are scheduled for those times, and you don't want yours to get lost in the crowd.
All in all, here's a list of best practices for determining the day and time of your LinkedIn publications:
Choose Tuesday, Thursday or Friday.
Choose between 8am and 10am, 12:30pm and 2pm, or 5pm and 7:30pm.
Select a specific time that is not "round": 9:23, 8:18, etc.
Go for regularity, even if it means fewer posts over a longer period.
Bonus :
As a tool, we owe it to you to offer you a little extra advice! To schedule your LinkedIn posts, you can prepare them in advance on the following tools, which will publish them at the day and time of your choice:
Swello
Buffer
LinkedIn : Indeed, thanks to a relatively new feature, you can now schedule your posts directly on LinkedIn 😉
Knowing when and how to publish on LinkedIn will make you visible to your prospects. However, this is not the only indicator to watch. The engagement rate of your posts is also crucial, which leads us to discuss "Account Verticalization".
Verticalization of LinkedIn Accounts, The Essential Growth Tip
For LinkedIn to recognize your profile as a creator of valuable content, an engagement rate of over 30% is required. With such a high rate of engagement, LinkedIn will promote your content not only to your immediate network (1st and 2nd level) but also to similar people in more distant circles (3rd, 4th level).
How do you calculate this engagement rate?
Engagement rate = (Number of likes, comments and shares) / Number of relationships.
Even if you're not a mathematical expert, having an increasingly extensive 1st-level network has a direct impact on the engagement rate, making it difficult to reach the 30% target.
The solution is to verticalize your accounts. Verticalization, i.e. focusing on a specific target with a LinkedIn profile, allows you to :
Possess a smaller network, 90% of which is made up of a specific target.
Tailor your LinkedIn posts to this specific target.
However, verticalization isn't feasible if you're using your sales reps' LinkedIn accounts for prospecting and content publishing (and the same goes for recruiters), as most sales reps aren't limited to a target, but rather to a geographic area.
To verticalize your content strategy on LinkedIn, you'll need LinkedIn MirrorProfiles accounts, at least one for each target or KPI you have. MirrorProfiles lets you rent ready-to-use LinkedIn profiles for automation, allowing you to verticalize your accounts and equip your sales reps with 2, 3 or even 5 additional LinkedIn accounts. Outbound prospecting has a double advantage.
At 100 euros per month for a single account, and with no time commitment, MirrorProfiles has established itself as the only solution for verticalizing your LinkedIn content strategy and surpassing LinkedIn quotas.
These LinkedIn accounts are designed to be not only automation-ready, but also 100% customizable. We've even developed Guides with an expert in personal branding on LinkedIn.
Navigating the world of digital marketing, and more specifically LinkedIn, requires a thorough understanding and strategic implementation of the various elements that make up an effective online presence. As a crossroads where professionals from various sectors converge, the platform offers fertile ground for networking, sharing expertise and, ultimately, lead generation and business development.
Social Selling, embodied by the creation of relevant content and authentic interaction with a targeted audience, is a central pillar of this approach. It's not just about sharing content, but doing so in a way that resonates with your audience, establishes your company and your teams as benchmarks in your field, and, above all, engages and incites interaction and conversion.
Verticalization of LinkedIn accounts, meanwhile, is emerging as a clever strategy for getting around some of the platform's inherent obstacles, particularly when it comes to achieving and maintaining high engagement rates. By precisely targeting and tailoring content to specific segments of your audience, you can not only increase your relevance and impact with these groups, but also explore and exploit niches that might otherwise be overlooked.
MirrorProfiles is an invaluable tool in this quest, offering the opportunity to diversify and deepen your content strategy on LinkedIn without diluting your message or compromising your engagement rate. With a personalized approach and practical guides to navigating the sometimes tumultuous waters of LinkedIn marketing, you're better equipped to not only reach your target audience, but also to communicate meaningfully and convert those interactions into tangible opportunities.
In short, mastering the art of publishing on LinkedIn, understanding timing, engagement, and strategically using the tools available, such as MirrorProfiles, positions you not only as a competent player on the platform, but also as an authoritative voice and opinion leader in your sector. The road to success on LinkedIn is paved with authentic interactions, quality content, and a well-honed strategy that respects and values your audience while highlighting your expertise and solutions.
Onwards to an optimized LinkedIn presence, where every post, every interaction, and every new contact is a step towards strengthening your brand and growing your business in today's interconnected digital world.
Rent a Linkedin avatar account today