Sourcing in the talent acquisition process is the 1st key step. In today's environment, where job boards are losing their luster and unemployment is low, talent no longer lingers to explore job offers. Hence the crucial importance of actively soliciting them. This article aims to equip you with tips and strategies for fine-tuning your recruitment campaigns. Emphasizing that data is the central pillar of effective sourcing, we'll also explore how MirrorProfiles can be an ally in your talent sourcing and acquisition process.
The essential strategy for optimizing candidate sourcing: Recruiter Lite
For quality sourcing, data is essential, and in large quantities. LinkedIn has had a monopoly for some time, and mastering it is imperative. In addition to the precise interventions your recruiters can make to enrich your sourcing list, 90% of it will be built up using Recruiter Lite LinkedIn.
As for the remaining 10%, recruiters can explore job boards to enrich their prospecting file, navigating strategically and cautiously through this mine of data that is available CVs. They can prove useful in the search for potential candidates, by thoroughly exploring and analyzing profiles, skills and career paths.
Recruiter Lite LinkedIn, a premium version of LinkedIn, offers different types of subscription and is the most suitable for recruitment thanks to its varied features, including :
Advanced filters
Projects: to select individual candidates for your position
"Search by ideal candidate": useful when filter ideas are lacking, although this feature is not always optimal.
We will concentrate on advanced filters, using the following method:
For a new position, review the LinkedIn profiles of people in similar positions with your competitors. If you want to reinforce an existing team, use your colleagues' LinkedIn URLs.
Analyze the profiles! The aim is to identify Hardskills by looking for commonalities between different LinkedIn profiles. This analysis should provide you with your main filters, such as :
Current job title
Location
Sectors
Years of experience
These elements will form the basis of your Recruiter Lite search.
Continue with precision work using the following filters:
Skills: use with caution, as some profiles may not be up to date.
Year of graduation: useful for excluding profiles that are being retrained or are too junior.
Company size: use this to fine-tune your copywriting according to candidates' motivations.
Keywords: powerful if used correctly, it allows you to scan the entire profile with a keyword.
Additional tip: The Boolean operators "OR" / "AND" / "NOT" can be used in the "Keywords" filter to combine different keywords. For example: ("franchise" OR "network") AND "luxe" NOT "restaurant". Thus, LinkedIn will highlight profiles that include either "franchise" and "luxury", or "network" and "luxury", while excluding those containing the keyword "restaurant".
A small example of a good Recruiter Lite Linkedin search. Here, the client is looking to recruit a salesperson in Paris specialized and experienced in SAAS software. With the keywords: "SAAS" AND "sales".
But what's the difference between the different Recruiter Lite subscriptions?
LinkedIn Recruiter Lite: The economical option
Target: VSEs, SMEs and independent recruiters.
Features: Over 20 search filters, access to relationships up to 3rd level.
Limitations: 30 e-mails per month, no project collaboration.
Utilization strategy: Build a qualified, targeted network, add relevant candidates in advance, and make judicious use of Inmails.
LinkedIn Recruiter: Investment and depth
Versions: Recruiter Professional Services (firms) and Recruiter Corporate (companies).
Features: Up to 150 e-mails, 40 search filters, network-wide access (Corporate version), and collaboration capabilities.
Cost: Estimated at $900/month, around 10 times the price of the Lite version.
Benefits: Particularly beneficial for profiles in short supply and for recruiters at large companies, law firms and ESNs.
Benchmarking and Utilization Strategy
Networking and Prospecting: The Lite version requires a solid networking strategy and prior prospecting, while the Recruiter versions offer far greater search depth and reach.
Candidate management: Recruiter versions enable more detailed, collaborative candidate management, but require rigorous organization to process a high volume of applications and ensure a positive ROI.
The choice between LinkedIn Recruiter Lite and Recruiter should be guided by your specific recruitment needs, your budget, and your ability to manage and optimize the use of these tools. A well-defined recruitment strategy and the adoption of complementary technologies can also play a crucial role in improving your recruitment efficiency and results.
Tip:
For specific positions, Sales Navigator Linkedin may be more suitable than Recruiter Lite. With Sales Navigator, you can quickly build up a list of companies based on specific criteria such as company headcount growth or headcount by division (e.g. Marketing, HR, etc.). This is crucial information for recruiters. For example, recruiting a salesperson can be easier if the company is going through a difficult period and is implementing restructuring plans 😉 To master Sales Navigator's filters like a pro, go here: How to get the most out of Sales Navigator.
Having explored pre-selection via Recruiter Lite Linkedin's filters, let's move on to the next phase, namely "screening", or evaluation before making contact. This will help you prioritize your candidate prospecting and, above all, personalize your approach messages.
How do you identify the most suitable candidates before approaching them?
Now that we have a well-structured search via Recruiter Lite LinkedIn, we're obviously not going to suggest that you copy and paste everything manually.
We're going to "scrape" these profiles, i.e. extract them in bulk and integrate them into a Google Sheet. We'll even go one step further and enrich these profiles with all the information available on their LinkedIn account, making it easier to prime the pool of candidates and, above all, to screen them before making contact. We'll explain everything later.
For scrapping and enrichment, several tools are available, including Phantombuster and Captain Data, to name but a few.
For our part, the majority of our customers prefer Captain Data for its API stability and, above all, for its ability to create scrap sequences. A workflow that allows them not only to scrape but also to enrich their Recruiter Lite search.
Use this Captain: "Search Linkedin Recruiter Lite".
Add this step to the same workflow: "Visit Linkedin Profil".
Then use the "Aggregate" function
We've set up an N8N and a Slack command to avoid human gymnastics, but concretely, you'll get this end result: Product Marketing Profile database.
Note that Linkedin quotas should not be overlooked in this workflow. A Linkedin profile is limited. Between 30 and 50 daily profile visits for free Linkedin. Between 80 and 100 for a paying profile.
To avoid any risk to Linkedin accounts, we divide the first stage into batches of 50 Linkedin profiles. Then, each lot is allocated to 1 Linkedin profile (or 1 cookie for the most expert). That's why we use MirrorProfiles, a solution we've developed that lets you rent Linkedin accounts, so you can rent Linkedin cookies. If your needs are substantial, I invite you to book a demo with Frédéric.
As you can see, we obtain a great deal of information from the profile visit that will enable us to :
Personalize your copywriting, approach messages and follow-ups
Rate candidates before making contact
Build up a pool of candidates. For example, the average salesperson spends 2 years with a company before seeing if the grass is greener elsewhere. So, with this statistic, you know that as soon as a "Sales" in your pool reaches 2 years of seniority in the company, a little message is in order 😉
Once your file has been compiled, import it into your pre-ATS so that you can carry out the screening.
An ATS (Applicant Tracking System) is to the HR function what a CRM is to the sales team. It is used to centralize all information and manage your recruitment actions based on data. Setting up an ATS is essential to simplify your recruiters' reporting and avoid information being lost or withheld.
For our part, we've developed a pre-ATS using various calculation rules and small scripts, allowing very pragmatic use before integration into a complete ATS. In my opinion, it's similar to a CRM: you don't want to "pollute" it with candidates rated 1 or 2 stars, or those who haven't responded to a request.
To manage your outbound prospecting activities, we've designed a customized Airtable for our customers.
For each position you're looking to fill, you'll need to create a table with all the information you've collected previously, as in my database example above. You can import them as CSV files into your Airtable, then use a "View" (similar to a filter on Google Sheet or Excel) to display those that don't yet have a star, so you can rate them. We've developed automatic screening scripts, but it would take too long to explain all that, so let's keep it simple for now.
Next, you will add key columns that will allow you to manage and transform a simple centralization into a real pre-ATS :
The "Tag" and "Status" columns will be updated automatically by your automation tools. For example, with La Growth Machine, you can use a webhook at each stage, but also at the end of your sequence. This will update your "Status" column with 3 pieces of information:
Contacted: The candidate has received a connection request or a message.
Accepted / Open: The candidate is part of your LinkedIn network or has opened your e-mail.
Answer: You have… well, you've understood the logic
For the "Tag" system, MirrorChat, which centralizes LinkedIn messaging from all your accounts on a single interface, lets you tag those who respond to your solicitations. The tags are customizable. Here is an example of what we use:
"Interested"
"Not interested"
"Not interested at the moment
"Interview to be scheduled"
"Appointment made"
"Shortlisted
"Recruited 🎉"
Now all you have to do is click on your Webhook to update your Airtable. To find out more about webhooks, click here. If you have any problems, please don't hesitate to contact Romain, our N8N and webhook expert.
In just a few clicks, you'll have up-to-date data. It's crucial to keep your candidate pool up to date so you can start thinking about the next step: "Candidate nurturing". A person with the tag "Not interested at the moment" on September 28 on your ATS can be contacted again by your recruiters 3 months later with just a few clicks.
The great thing about Airtable is that it's 100% customizable, so you can really create the workflow that best suits your needs. For example, we had a design challenge. We've developed a simple Airtable extension to transform media URLs into real photos on Airtable. It's more pleasant. ChatGPT is your ally for developing this type of script.
Before :

After :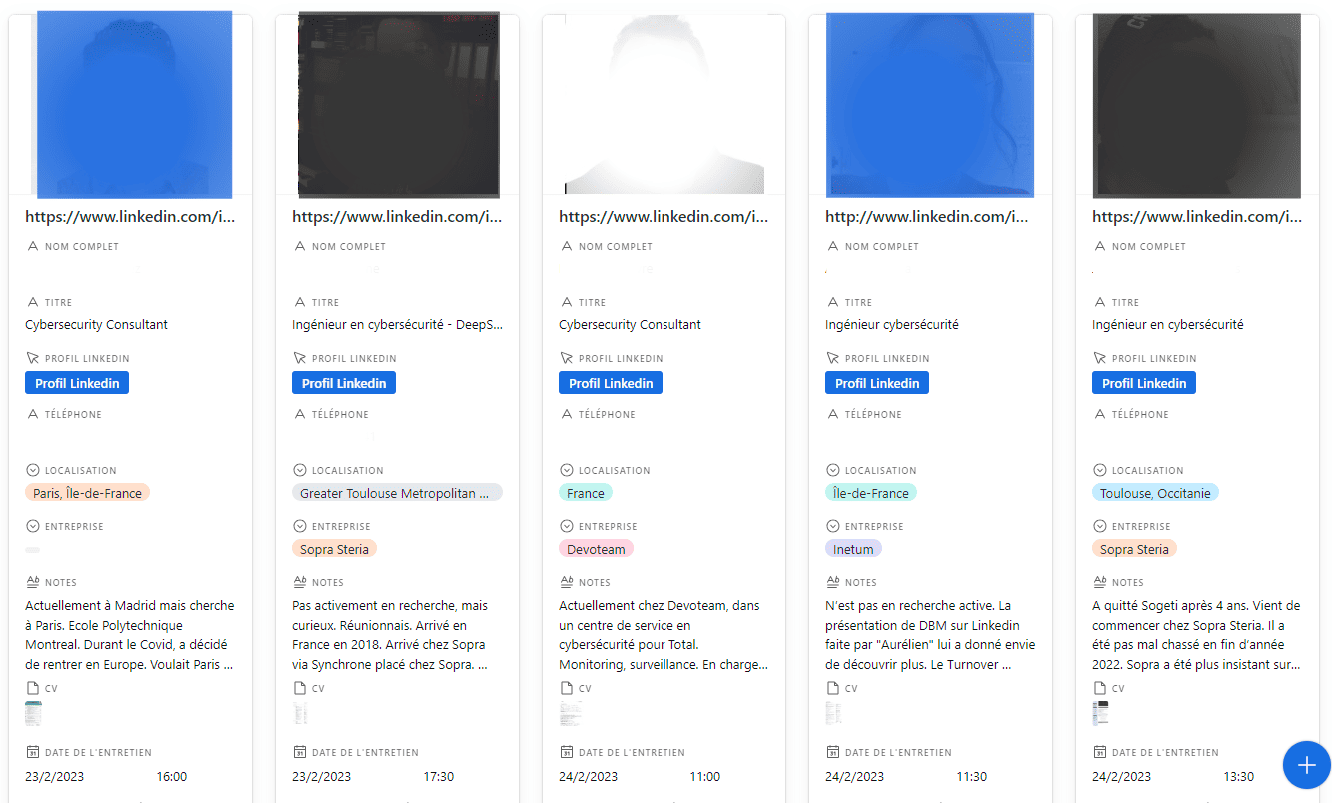 This is just one of the many extensions we have developed to meet our customers' needs. But I'm sure you'll discover others to suit your own needs.
Once you've explored how to create a file of candidates and organize them in your ATS, it's time to move on to the long-awaited step: making contact!
Make approach messages your ultimate filter
Assigning stars is a good practice, as it allows you to tailor your approach to each profile. But how can you avoid being overwhelmed by dozens of interviews to manage? The trick to effective copywriting is to use message content to "filter" the candidates contacted.
Keeping the "curious" away
Keeping out higher earners
Address sensitive points directly to avoid wasting time later on
Message content is at the heart of the process. In a candidate prospecting campaign, your macro statistics should look like this:
Acceptance rate: Over 40%.
LinkedIn response rate: Over 45%.
Open rate: Over 60%.
Mail response rate: Over 20%.
Response rate Tel: Over 70%.
If your statistics are lower than these, it means that your messages aren't powerful enough, or that your initial database wasn't adequate. The acceptance rate is a specific KPI to monitor, as it depends on the optimization of your Linkedin profile and your candidate's activity (or lack of it) on LinkedIn. Here is a list of golden rules that your messages should respect:
Do not exceed 500 characters per message
Focus on the person, avoid "I" or "we".
Provide a brief description of the company without simply copying and pasting your website, which is often too marketing-oriented.
Talk about wages! This has a double advantage: either it attracts, or the person earns more and there's no need to continue. Yes, it's a rather brutal vision, but here we're aiming for efficiency.
Be human, explain why you're recruiting and your weaknesses. What can the candidate bring to the table? They need to feel useful and valued. Remember, we come to them, not the other way around.
No job description URL or website: keep your candidate in discussion.
Always ask for referrals if she's not interested.
Don't overuse merge tags: normally, if your DB is precise enough, there's no need for them. Personalization involves hard text, not custom variables, which are often misused and easy to spot.
Be careful with masculine/feminine agreements.
You now hold the keys to effective candidate prospecting. Sourcing shouldn't stop at a few lines in your ATS, but rather the moment a candidate responds to your prospecting campaigns. Whether automated or manual, copywriting can save your recruiters precious time. Remember, the more time your recruiters have, the better they'll be able to conduct quality initial interviews and, ultimately, recruit the right profile for the position you're offering. In this article, I've chosen not to talk about automation, because this technique also works very well if your recruiters prefer to send personalized 1 to 1 messages. If you're interested in automation, take a look at this article: 5 automation tools to pair with Mirrorprofiles.
Rent a Linkedin avatar account today