The challenge of upgrading Linkedin leads is a daily concern for sales and marketing professionals. Indeed, when you run a prospecting campaign on Linkedin, the majority of your prospects won't accept the connection request, and consequently won't receive any messages from you. The sine qua non of Linkedin campaigns is that your prospect joins your network. You've spent a lot of time building up your Linkedin databases, and it would be a shame to be able to contact only 30% or 50% of your list. That's why, in this article, we'll be looking at ways of contacting all your prospects via email, using the data obtained from Linkedin.
Emailing, an acquisition channel not to be overlooked
In 2024, emailing will be one of the most fashionable acquisition channels. In fact, long neglected in favor of Linkedin, email campaign statistics are gradually picking up. Thanks to Linkedin, you've been able to show your prospects that you're interested in them, whether through a profile visit, a connection request or a like on your posts (to automate all this, I recommend Heyreach).
The previous actions you've taken will give your email campaigns a precise and effective hook. For example: " Profile X tried to contact you via Linkedin". Multiplying your sales force with MirrorProfiles will increase your prospect's curiosity. It's only human to wonder why so many different people are prospecting for us. It's been proven that when more than 3 people contact you for the same thing, you have a 65% greater chance of accepting the appointment proposed by the 4th person.
To improve the effectiveness of B2B email campaigns, it's essential to pay particular attention to the wording of e-mail subjects. A well-designed subject line should be concise and captivating to encourage the recipient to open the message. Here are a few tips to help you get there:
Concise and clear: An e-mail subject line should be straight to the point, with no superfluous content.
Caution with vocabulary: Avoid terms that could trigger spam filters.
Arousing emotions: Aim to touch the recipient by arousing curiosity or provoking an emotional response.
Engaging formats: Open-ended questions, exclusive ads, and urgent calls to action are formats that can increase engagement.
Personalization: Adding personalized elements, such as the recipient's name, can enhance interest in the message.
Using current events: Using current events or statistics can make the subject more relevant.
Simplicity: A subject must be kept simple and professional to be taken seriously.
Experimentation and optimization: A/B tests are useful for determining the most effective approaches.
For follow-up or last-chance e-mails, it's advisable to maintain a respectful approach and provide a new perspective or information that might rekindle the recipient's interest. At the end of the day, a well thought-out e-mail subject is a decisive factor in standing out in a competitive environment and increasing e-mail open rates.
When it comes to the actual content of the emailing, it's up to you! 😉 If you need help, we've compiled a list of tips and best practices for writing prospecting emails.
In addition to the qualitative aspect of a prospecting email, the quantitative aspect should not be overlooked. In fact, an email address optimized for deliverability can send up to 200 emails a day. What's more, there are tools like Instantly and Lemlist to help you overcome these limits by multiplying your domain names.
Now that we've seen the benefits of email marketing for customer acquisition, you're going to need some fuel: your prospects' email addresses.
Enriching professional e-mails: tools and tips
Email enrichment is the process of deducing an email address from basic data such as a person's first name, last name and company. The aim is to facilitate direct contact with potential prospects.
There are two main approaches to email enrichment: one is based on the exploitation of existing databases, while the other uses semantic techniques.
The first method is based on accumulating e-mail addresses via the web and cross-referencing them with various databases to build up a marketable directory. However, this technique can give rise to problems of data updating, information quality and compliance with data protection regulations.
The semantic approach, on the other hand, involves generating combinations of probable email addresses based on the prospect's first and last name and company domain, and then checking the validity of these addresses. For example, for a person named Frédéric Duhirel working at Stepward, the algorithm will search for variants such as [email protected], f.duhirelstepward.com, and others until it identifies a valid address.
This method has the advantage of complying with personal data protection standards such as the RGPD, and of relying on up-to-date information, in particular by verifying the actual existence of the email address and using data provided by users on professional platforms that are regularly updated.
Following your Linkedin campaigns, you'll find yourself with an average of 60% of your database to upgrade through emailing. Here are the key steps:
Export to CSV all prospects who have not accepted your connection request

Normally you'll have at least these 4 pieces of information: First name / Last name / Company and Linkedin URL of your prospect

Enrich your database with your prospects' company websites

Use one of these enrichment tools: Top 5 tools for enriching professional emails
Yes, we agree, step 3 must have made you frown ahah. No, I'm not going to ask you to perform this operation by hand, as it's extremely tedious and uninteresting.
Thanks to your prospects' Linkedin URL, you'll be able to easily retrieve their Company Linkedin URL. To do this, simply visit your Linkedin profile via Phantombuster or Captain Data.
Here, there is a Linkedin-imposed limit of 100 visits per Linkedin profile per day. This is where MirrorProfiles can help: by renting a MirrorProfiles Linkedin profile, you can multiply your Linkedin quotas by 2, 3, 4 or even 10.
Then, with your Company Linkedin URLs, all you have to do is visit the company page to get the website. Also with one of these two tools: Phantombuster or Captain Data.
If you find handling complicated, don't hesitate to ask us. We have an enrichment offer and we can do it for you.
With these 4 pieces of information :
First name
Name
Company name
His website
You'll optimize the success rate of enrichment tools, and it won't be surprising to recover around 50/60% of professional emails.
To make it more meaningful. Let's take an initial Linkedin database of 1000 rows. At the end of your Linkedin campaigns, you have 600 lines/prospects who have not accepted your connection request. Following the steps I've explained above, you get 360 professional e-mail addresses. That's a lot if you had to contact them individually by hand. That's why here are our favorite tools for B2B email automation.
Email automation tools to use
For our part, we use Lemlist, and have written a comprehensive
a complete guide to this tool.
But some people will prefer tools like Emelia and Instantly, which are also very good emailing tools:
Instantly :
Instantly is an e-mail marketing platform specializing in cold calling campaigns. It's renowned for its ease of use and advanced features that optimize e-mail deliverability. Here's a description of Instantly's main features, based on user testimonials and information available on their site:
Volume e-mail management: Instantly lets you connect an unlimited number of e-mail accounts under a single subscription, enabling you to send thousands of e-mails daily without compromising the sender's reputation.
Centralized Response Management with Unibox: Unibox enables you to manage dozens, even hundreds, of inboxes simultaneously, making it easier to tag leads and make contact to close deals.
Campaign analysis: Instantly offers an advanced analytical dashboard to evaluate campaign performance and adjust strategies accordingly.
Testimonials from users such as Sam Wilson, Tony Liu and others underline Instantly's superiority over other tools on the market in terms of ease of use, optimized deliverability and quality of customer support. The platform is particularly appreciated by agencies, recruiters and contractors for its ability to manage large-scale prospecting campaigns.
Instantly is extremely interesting for high-volume B2B emailing. Indeed, it quickly made a name for itself for its simplicity in multiplying domain names in order to send more daily emails. Instantly is the emailing counterpart of Mirrorprofiles for Linkedin. Thanks to Instantly, you can have, for example, 5 domain names attached, and therefore a capacity of 1,000 e-mails per day.
Emelia
Emelia is a cold-mailing platform that stands out for its ease of use and competitive rates. It offers a range of features designed to optimize email campaigns and improve prospecting performance. Here's an overview of Emelia's main features:
Spintext: This feature lets you create variants in e-mail content to avoid being flagged as spam by mail servers.
A/B Testing: Emelia facilitates A/B testing to fine-tune campaigns and increase conversion rates through small content modifications.
Viewing responses: Emelia lets you quickly view prospect responses, so you can focus on the most promising leads.
Automations: The platform integrates natively with major tools such as Zapier, N8N, Integromat and Make to automate workflows and save time.
Feedback from customers such as Alexandre Bellaich and Jimmy Fouani underlines Emelia's efficiency and performance, as well as the fluidity of the platform, which makes it possible to launch efficient automations and sign contracts. In short, Emelia is an advantageous solution for marketers and entrepreneurs looking to run effective, large-scale cold-mailing campaigns.
Emelia first stood out for its low price in relation to all the features it offers. If you don't have an extreme need for email prospecting volume, this is the tool for you.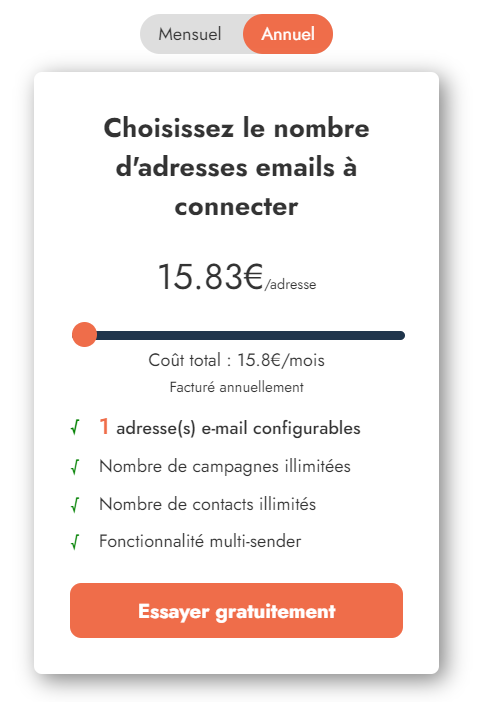 In conclusion, emailing remains an essential customer acquisition vector in 2024, regaining its popularity after being eclipsed by platforms like LinkedIn. Previous interactions on LinkedIn, such as profile visits or interactions with publications, can serve as a springboard for targeted, personalized email campaigns, increasing the chances of conversion.
To maximize the impact of your email campaigns, it's crucial to take care with the subject lines of your e-mails. A well-written subject line should be brief, evocative and personalized, while avoiding terms likely to trigger spam filters. Experimentation with A/B tests can help refine the strategy and identify the most effective formulas.
Alongside quality, quantity also plays an essential role in the effectiveness of email campaigns. Using platforms such as Instantly or Emelia can help you overcome conventional limits and manage large volumes of e-mail.
Last but not least, enriching your email databases is a necessary prerequisite for feeding your campaigns. The semantic approach, RGPD-compliant and based on up-to-date data, is proving to be an effective method for obtaining valid and relevant e-mail addresses. Solutions such as the use of LinkedIn profiles via MirrorProfiles can facilitate this process by broadening the possibilities for information gathering.
In short, a well-honed emailing strategy, combining editorial quality and sending volume, supported by a solid data enrichment process, is essential for success in acquiring new customers via emailing in 2024.
Rent a Linkedin avatar account today